TECHNONICOL ENVIRO WHITE
SBS-modified bitumen roofing and waterproofing membrane for cool roof construction
TECHNONICOL ENVIRO WHITE is a roofing and waterproofing SBS-modified bitumen membrane that allows obtaining the effect of "cool roof" thanks to the white slate with high solar reflection used as the top protective layer. As a result, the roof covering is not heated and the premises under the roof (attic or utility room) save comfortable temperature.
Designed for installation as the top layer in double-layer roofing system or as a single-ply polymer-bitumen roofing membrane on buildings and constructions. Can be used for new construction or repair.
Roofing material TECHNONICOL ENVIRO WHITE has the following advantages:
Reduces energy costs for conditioning the premises under the roof by 10-30%;
Increases roof life: high reflectivity reduces the influence of UV rays on the waterproofing layer;
Maintains an aesthetic appearance of the roof;
The membrane is easy to clean.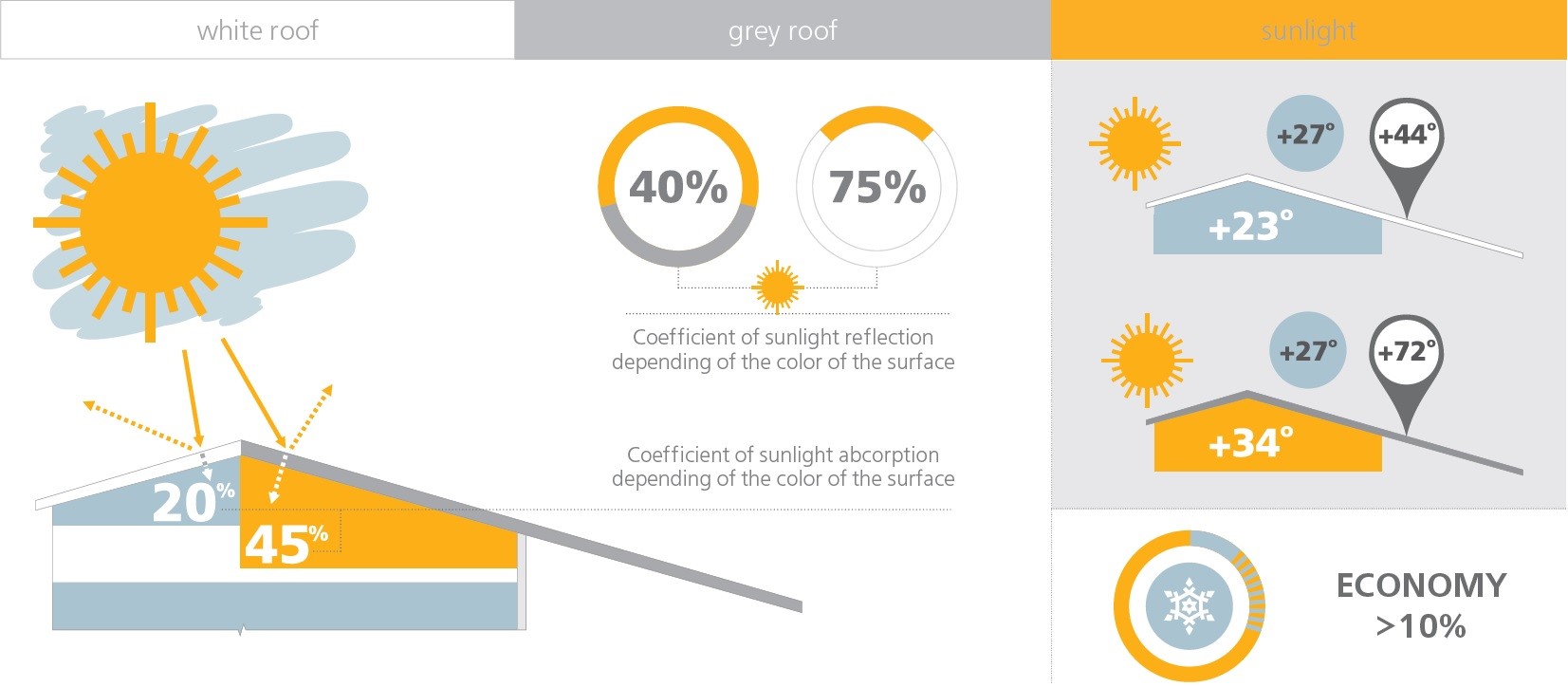 Product technical data
| PROPERTIES | PERFORMANCE |
| --- | --- |
| Thickness, mm | 4.0±0.10 |
| Mass per unit area, kg/m2 | 5.0±0.25 |
| Length x width, m | 8 x 1 |
| Softening point, °C | ≥110 |
| Flexibility at low temperature, °C | ≤-25 |
| Flow resistance at elevated temperature, °C | ≥100 |
| Elongation L / T, % | 50±25 / 50±25 |
| Tensile strength L / T, N/50 mm | 700±100 / 500±100 |
| Tear resistance L / T, N | 180±30 / 180±30 |
| Reinforcement type | polyester |
| Protective covering type on the top | white coarse-grained slate |
| Protective covering type on the bottom | polymer film |