TECHNONICOL ENVIRO FOREST
SBS-modified bitumen roofing and waterproofing membrane for protection from sprouting of moss and vegetation
TECHNONICOL ENVIRO FOREST is a roofing and waterproofing SBS-modified bitumen membrane with slate, which is covered with special additives against the overgrowing of the flat roof with moss and vegetation. Slate contains copper elements with antifungal properties. During the rain or dew, the material enriches water with copper ions and inhibits the germination of mosses.
Designed for installation as the top layer in double-layer roofing system or as a single-ply polymer-bitumen roofing membrane on buildings and constructions. Can be used for new construction or repair.
Roofing material TECHNONICOL ENVIRO FOREST has the following advantages:
Inhibits the growth of mosses and lichens on the flat roof;
Decreases the operating costs of the facility for roof maintenance;
Has a unique copper color;
Maintains the aesthetic appearance of the roof.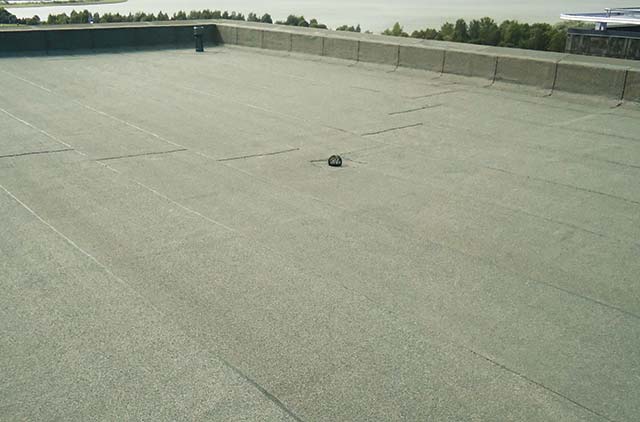 Product technical data
| PROPERTIES | PERFORMANCE |
| --- | --- |
| Thickness, mm | 4.0±0.10 |
| Mass per unit area, kg/m2 | 5.0±0.25 |
| Length x width, m | 8 x 1 |
| Softening point, °C | ≥110 |
| Flexibility at low temperature, °C | ≤-25 |
| Flow resistance at elevated temperature, °C | ≥100 |
| Elongation L / T, % | 50±25 / 50±25 |
| Tensile strength L / T, N/50 mm | 700±100 / 500±100 |
| Tear resistance L / T, N | 180±30 / 180±30 |
| Reinforcement type | polyester |
| Protective covering type on the top | coarse-grained slate with special additives |
| Protective covering type on the bottom | polymer film |