TECHNONICOL SOUNDSTOP SUPER
SBS-modified bitumen membrane for impact noise insulation and waterproofing of floor slabs
Fiberglass reinforced SBS-modified bitumen membrane with soundproof fabric TECHNONICOL SOUNDSTOP SUPER prevents the spread of an impact noise, which is transmitted through the floor slabs. The material is used indoors for the construction of soundproofing and waterproofing layer in systems of "floating" flooring, heated flooring, framed flooring and interior partitions. Special non-woven fabric on the bottom side of the membrane grants effective soundproofing properties to the material, while aluminized film on the top side helps to reduce the influence of electromagnetic fields.
All sheet end joints and longitudinal overlaps must be carefully sealed with NICOBAND self-adhesive sealant tape of 100 mm width to ensure reliable impact noise insulation and waterproofing properties. The same tape should be used for reinforcement of corners and other joints.
Soundproofing membrane TECHNONICOL SOUNDSTOP SUPER has the following advantages:
High index of impact noise reduction;
Also serves as the waterproofing layer due to the increased thickness of the bitumen compound;
The material is resistant to decay;
The small total thickness of the material allows retaining the same height of the flooring;
No need for any additional equipment and skills;
Safety and cheap application – the membrane is applied without the use of gas and flame;
Helps to reduce the influence of electromagnetic fields from the sources placed on adjacent floors.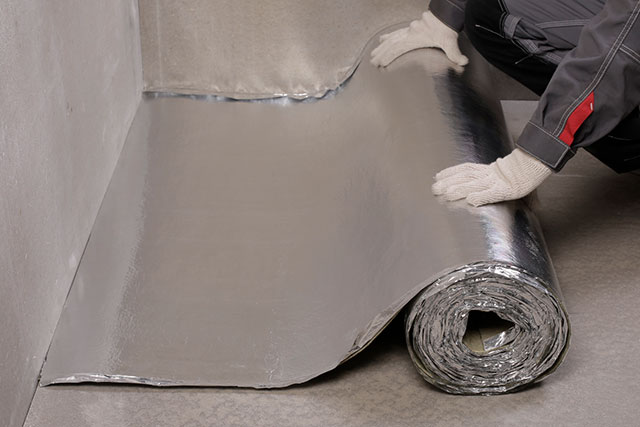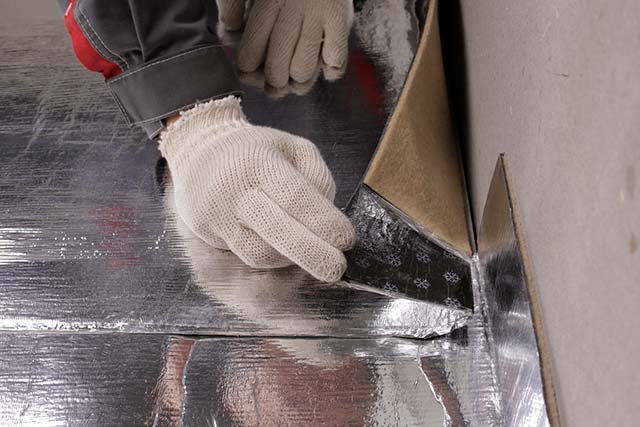 Product technical data
| PROPERTIES | PERFORMANCE |
| --- | --- |
| Mass per unit area, kg/m2 | 2.2±0.25 |
| Length x width, m | 10 x 1 |
| Maximum impact noise reduction index ΔLn, dB | 27 |
| Watertightness at 0.2 MPa for 2 hours | Pass |
| Dynamic modulus of elasticity under load of 2 kPa, MPa | ≤0.15 |
| Tensile strength, N | ≥300 |
| Reinforcement type | fiberglass |
| Protective covering type on the top | aluminized film |
| Protective covering type on the bottom | non-woven soundproof fabric |