ULTRAFLEX SA 7000-X
SBS-modified bitumen self-adhesive non-reinforced membrane with record elongation properties
Self-adhesive carrier less SBS-modified bitumen membrane ULTRAFLEX SA 7000-X is designed for waterproofing of foundations and engineering structures with the additional feature of radon protection.
ULTRAFLEX SA 7000-X is produced by placing a special self-adhesive polymer-bitumen binder on a unique high-performance polymer film that covers the material on top. Thanks to the outstanding properties of the film, the membrane has record elongation characteristics and high dimensional stability. The bottom surface of the material is covered with an easy-removable protective film.
Waterproofing material ULTRAFLEX SA 7000-X has the following advantages:
Record high elongation properties prevent the material from damage caused by movements of the substrate;
Excellent physical and mechanical characteristics in all directions;
Prevents radon penetration into the structure;
The high-quality polymer-bitumen compound has the property of "self-healing", which gives absolute tightness in places of mechanical penetration;
High speed of application;
No need for any additional equipment and skills;
Safe and cheap application – the membrane is applied without the use of gas and flame;
High repairability.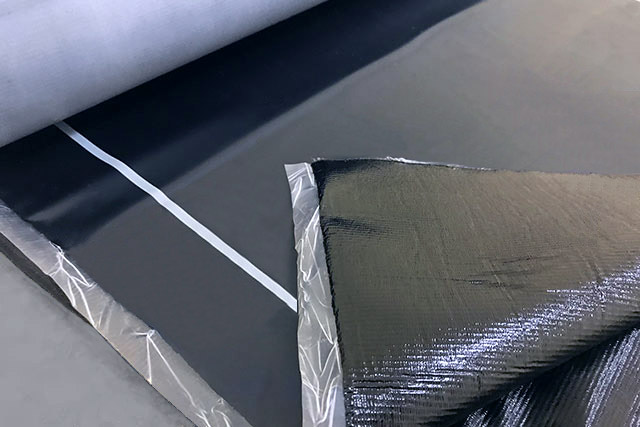 Product technical data
| PROPERTIES | PERFORMANCE |
| --- | --- |
| Thickness, mm | 1.5±0.10 |
| Mass per unit area, kg/m2 | 1.75±0.15 |
| Length x width, m | 20 x 1 |
| Softening point, °C | ≥100 |
| Flexibility at low temperature, °C | ≤-15 |
| Flow resistance at elevated temperature, °C | ≥85 |
| Elongation L / T, % | ≥800 / ≥800 |
| Tensile strength L / T, N/50 mm | 400±100 / 300±100 |
| Peel resistance of joints: overlap to overlap / overlap to film, N/50 mm | ≥25 / - |
| Water vapour transmission properties | μ=120000 |
| Reinforcement type | no base |
| Protective covering type on the top | high-performance polymer film |
| Protective covering type on the bottom | anti-adhesion film |