UNDERLAY NEXT SELF
SBS-modified bitumen self-adhesive non-reinforced underlay membrane for pitched roofs
Self-adhesive non-reinforced SBS-modified bitumen membrane UNDERLAY NEXT SELF is used as an underlay on pitched roofs with continuous rigid wood decking (OSB-3, plywood, tongue or groove planks). The use of self-adhesive underlay membranes is mandatory in zones of valleys and eaves as these areas are most prone to leakages.
The top side of the material is covered with a strong multilayer polypropylene fabric that prevents applicators from slipping from the pitched roof. A high-performance self-adhesive bitumen compound on the bottom side provides maximum reliability and eliminates the need for the application of adhesive mastic on overlaps. The self-adhesive binder is covered with an easy-removable protective film.
Waterproofing material UNDERLAY NEXT SELF has the following advantages:
Sticks well to its' top surface and does not require the use of adhesive mastic on transverse and longitudinal overlaps;
Additional strength is granted by multilayer polypropylene fabric that also prevents applicators from slipping from the pitched roof;
The lightweight of the membrane simplifies the transportation and installation;
Installation of the membrane takes minimum time and does not require any additional equipment and skills;
Safe and cheap application – the membrane is applied without the use of gas and flame;
The high-quality polymer-bitumen compound has the property of self-healing, which grants absolute tightness in places of nail penetration;
Special marking lines on the fabric make the following installation of the roofing shingles easier;
High repairability.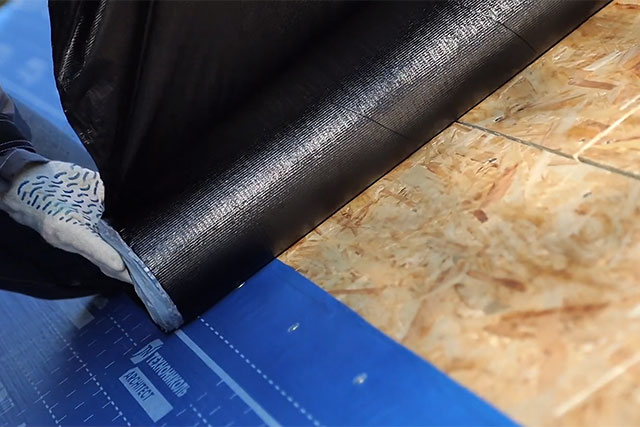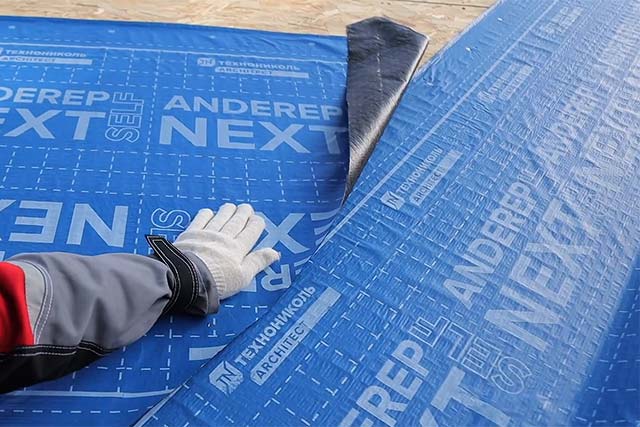 Product technical data
| PROPERTIES | PERFORMANCE |
| --- | --- |
| Mass per unit area, kg/m2 | 1.0±0.1 |
| Length x width, m | 25 x 1 |
| Flexibility at low temperature, °C | ≤-15 |
| Flow resistance at elevated temperature, °C | ≥90 |
| Elongation L / T, % | 20±10 / 20±10 |
| Tensile strength L / T, N/50 mm | 600±200 / 600±200 |
| Tear resistance L / T, N | 500±100 / 500±100 |
| Peel resistance of joints: overlap to film, N/50 mm | 40±15 |
| Reinforcement type | no base |
| Protective covering type on the top | multilayer polypropylene fabric |
| Protective covering type on the bottom | anti-adhesion film |