Solution for a vehicle-accessible flat roof with polymer-bitumen membrane and XPS thermal insulation
TN ROOF BRM CONCRETE AUTO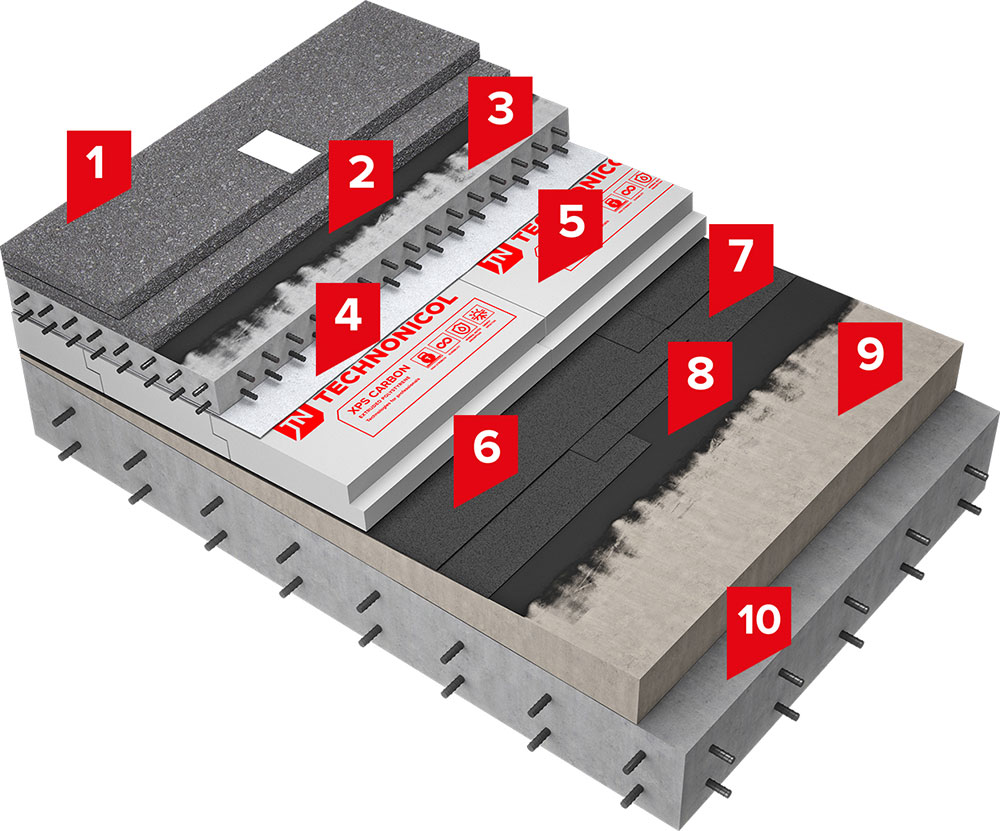 System composition
Two layers of asphalt concrete
Road bitumen emulsion
Reinforced concrete plate
Needle-punched geotextile
Sloping layer of sand-cement screed
Reinforced concrete base
AREA OF APPLICATION
Residential and administration buildings, multifunctional complexes, hotels, sports and healthcare facilities, business centers, shopping centers.
SOLUTION DESCRIPTION
The inverted roofing solution accessible to vehicle traffic is installed over a reinforced concrete load-bearing structure. The system withstands a great load and reliably protects the premises below from leakages during the whole operation period.
The waterproofing system comprises two layers of APP-modified bitumen membrane ULTRAPLAST B for durable waterproofing even in extreme operating conditions. The waterproofing membrane in this system also serves as a vapor barrier. It is installed over the primed sloping layer of sand-cement screed.
In order to withstand a great load from the constant vehicle traffic, special extruded polystyrene slabs TECHNONICOL CARBON SOLID 500 are used as a thermal insulation layer. An incredibly high compressive strength of this material (more than 50 tons per square meter) makes it the best choice for the most important and complicated projects.
To evenly distribute the pressure of vehicles on the roofing system, the reinforced concrete slab is mounted, which is followed by the laying of asphalt concrete.