Solution for a flat roof on corrugated steel deck with PVC membrane and combined thermal insulation
TN ROOF PVC STEEL SMART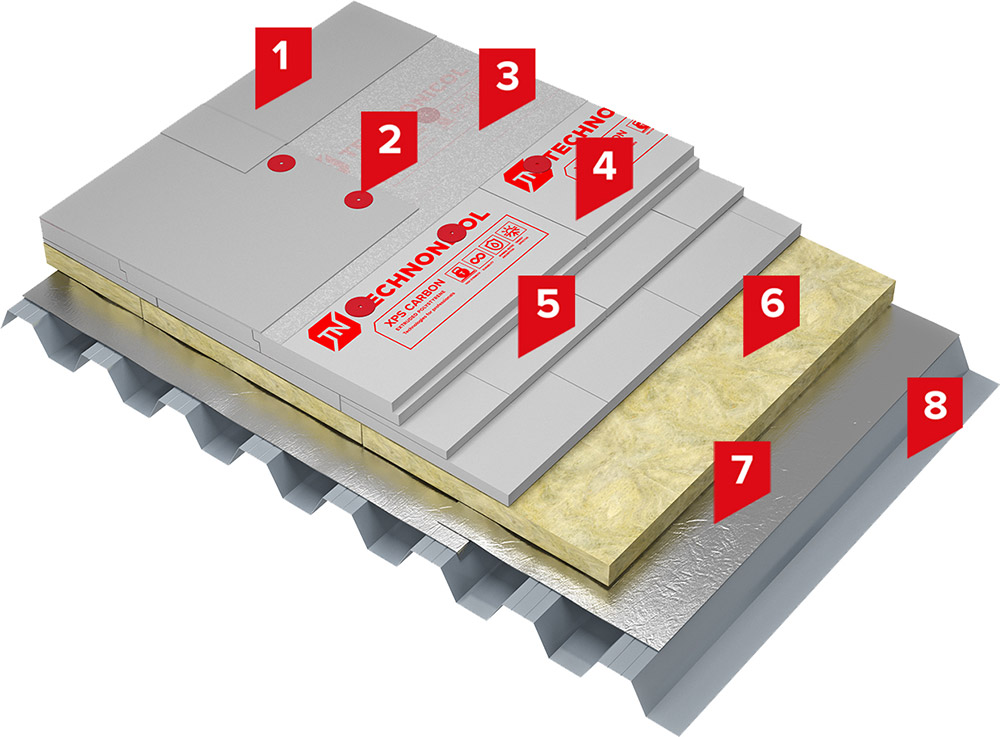 System composition
Mechanical fastening system TECHNONICOL
Glass fiber
Corrugated steel deck
AREA OF APPLICATION
Logistic centers, warehouses, industrial buildings, shopping centers, sports complexes, buildings with a large area and a lot of engineering equipment on the roof.
SOLUTION DESCRIPTION
The solution is suitable for roofs of a large area, pre-fabricated buildings and structures. The system is featured by high strength and rigidity, which allow using it on roofs with a lot of equipment.
Aluminized self-adhesive polymer-bitumen membrane VAPORSTOP CA 500 is used as vapor barrier on the corrugated steel deck. The membrane has high vapor barrier properties (including at the points perforated by fasteners), is resistant to mechanical impacts and can support a weight of an applicator.
At least 50 mm thick non-flammable stone wool insulation TECHNOROOF N30 is used as a bottom thermal insulation layer, which provides the system with high fire resistance. Extruded polystyrene slabs TECHNONICOL CARBON PROF 300 are used as an upper layer of the thermal insulation system. They are characterized by high insulation properties and increased compressive strength.
Polyester reinforced PVC membrane for single-ply waterproofing of exposed flat roofs LOGICROOF V-RP must be separated from the XPS layer by a glass fiber mat weighing not less than 100 g/m2. The top layer of the PVC membrane is featured by very high resistance to weather factors and UV rays, while the bottom layer offers a high resistance to puncture.
Insulation and waterproofing layers are mechanically fixed to the base with telescopic fasteners.