Waterproofing solution for a foundation with polymer-bitumen membrane and mechanical protection
TN FOUNDATION BRM OPTIMA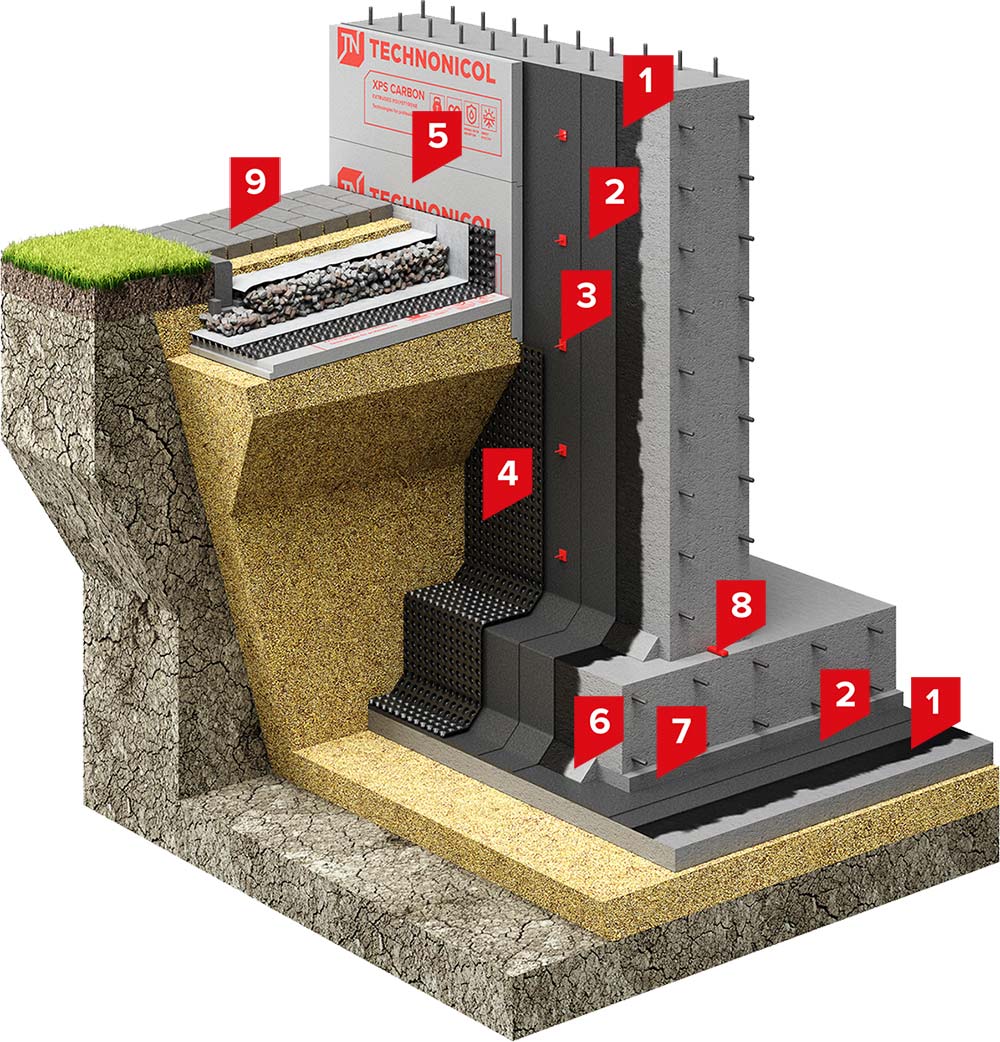 AREA OF APPLICATION
The system is designed for underground waterproofing of buildings with an unexploited basement or technical floor constructed in pits with backfilling in soils with a low groundwater level.
SOLUTION DESCRIPTION
The waterproofing system comprises two layers of self-adhesive non-reinforced SBS-modified bitumen membrane of the new generation ULTRAFLEX SA 7000-X (a variation SW-D with two self-adhesive lateral overlapping strips is recommended for underground works). Thanks to the unique high-performance polymer film, the membrane has an excellent elongation that prevents it from damage caused by movements of the substrate, which is especially important for foundation solutions. The material is also featured with additional radon protection. The membrane is fully adhered to the surface pre-treated with BITUMEN-POLYMER PRIME COATING (can be replaced with the regular BITUMEN PRIME COATING in case of shifting to torch-on polymer-bitumen membranes). For the transverse joints, one should apply double-sided self-adhesive tape NICOBAND DUO. The second layer is installed over the first one with a shift of 30-50 cm.
The dimpled HDPE membrane PLANTER standard is used to protect the waterproofing layer. The material prevents possible damage to the waterproofing membrane when backfilling the pit and protects it from other negative external influences.
In case the thermal insulation of the socle is required, one may use XPS slabs TECHNONICOL CARBON PROF 300. To seal the concrete joints at the junctions of the slab and the foundation wall, swelling bar TECHNONICOL IC-SP 20х10 is used.