Solution for a pitched roof with thermal insulation of PIR boards
TN SHINGLES MANSARD PIR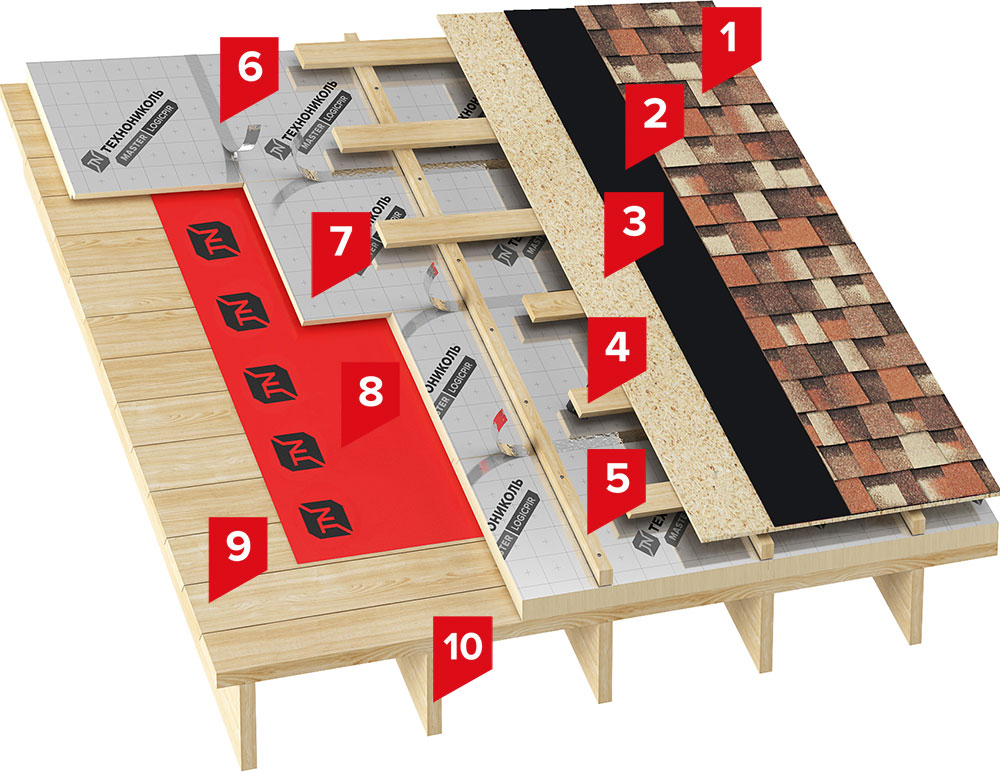 System composition
Solid base (OSB-3 or plywood)
Counter battens
Ventilation space battens
Wood decking
Rafter system
AREA OF APPLICATION
Pitched roofs of residential houses and administration buildings with a slope of 12° or greater with PIR thermal insulation.
SOLUTION DESCRIPTION
The solution represents a reliable watertight system for pitched roofs with thermal insulation made from PIR boards.
Innovative boards LOGICPIR on the base of polyisocyanurate with aluminium foil covering are used to arrange effective thermal insulation, therefore significantly increasing the energy efficiency of the overall construction. The very rigid and perfectly flat material has high compressive strength and a record low thermal conductivity value.
From the inside of the construction, the PIR boards are protected from the vapor ingress by vapor barrier films of TECHNONICOL ALPHA series. From the opposite side, the boards' joints are sealed with NICOBAND self-adhesive sealant tape, which removes the necessity of a diffusion membrane.
The base for roofing materials must be solid, rigid and flat, and is normally made of OSB-3 or exterior plywood with increased moisture resistance.
SBS-modified bitumen membranes of UNDERLAY series are used as an underlayment for roofing shingles over the whole roof surface. These lightweight materials provide secure protection from wind-driven rain. For the zones of valleys and eaves, one should apply self-adhesive membranes UNDERLAY NEXT SELF or ULTRAFLEX SA; the remaining roof can be covered with UNDERLAY PRO (S) 500, UNDERLAY BASE 1500 or UNDERLAY BASE 900 membranes that are fixed mechanically.
TECHNONICOL roofing shingles serve as the main roof covering, providing waterproofing and an attractive appearance. The great variety of patterns and colors allows making a choice that best suits the chosen house design. The material is fixed with roofing nails, the quantity of which depends on the roof slope and the chosen shingles collection.