Solution for a green flat roof with polymer-bitumen membrane, drainage and XPS thermal insulation
TN ROOF BRM CONCRETE GREEN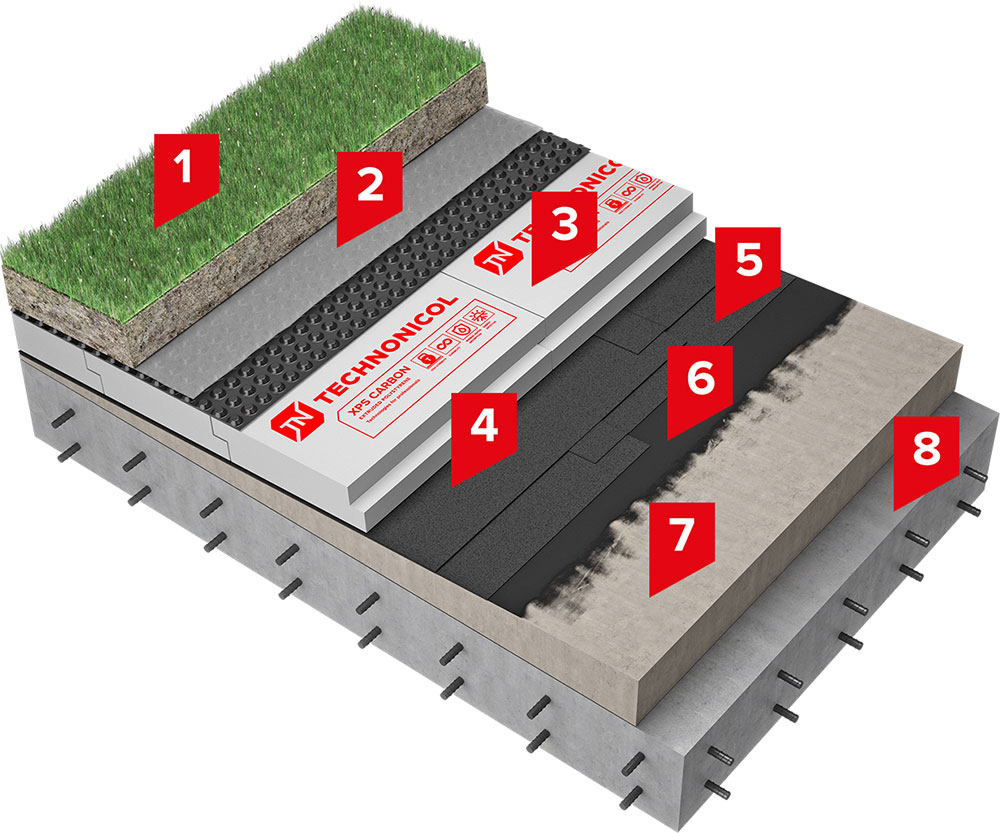 System composition
Soil with plants
Sloping layer of sand-cement screed
Reinforced concrete base
AREA OF APPLICATION
Residential and administration buildings, multifunctional complexes, hotels, sports and healthcare facilities, business centers, shopping centers.
SOLUTION DESCRIPTION
A green roof reduces energy costs, creates aesthetically attractive landscape and recreational space, increases biodiversity in urban areas and regulates the temperature and humidity in the building and the environment.
The waterproofing system comprises two layers of SBS-modified bitumen membrane of the ULTRAFLEX series. ULTRAFLEX A is torched to the sloping layer of sand-cement screed primed in advance. The top layer is made of ULTRAFLEX GREEN membrane that contains a special chemical compound to prevent roots penetration and ensure reliable waterproofing. The polymer-bitumen membrane in this system also serves as a vapor barrier.
Extruded polystyrene slabs TECHNONICOL CARBON PROF 300 used as a thermal insulation layer are featured by low water absorption and high compressive strength, which meets the requirements for thermal insulation materials in inverted roofs. They also provide additional protection for waterproofing layers from mechanical damage and other negative impacts.
The dimpled drainage HDPE membrane with geotextile PLANTER geo effectively removes rainwater from the system.
The thickness and type of the soil or substrate are selected taking into account the requirements of the chosen plants.