Solution for a concrete flat roof with polymer-bitumen membrane and XPS thermal insulation
TN ROOF BRM CONCRETE STANDARD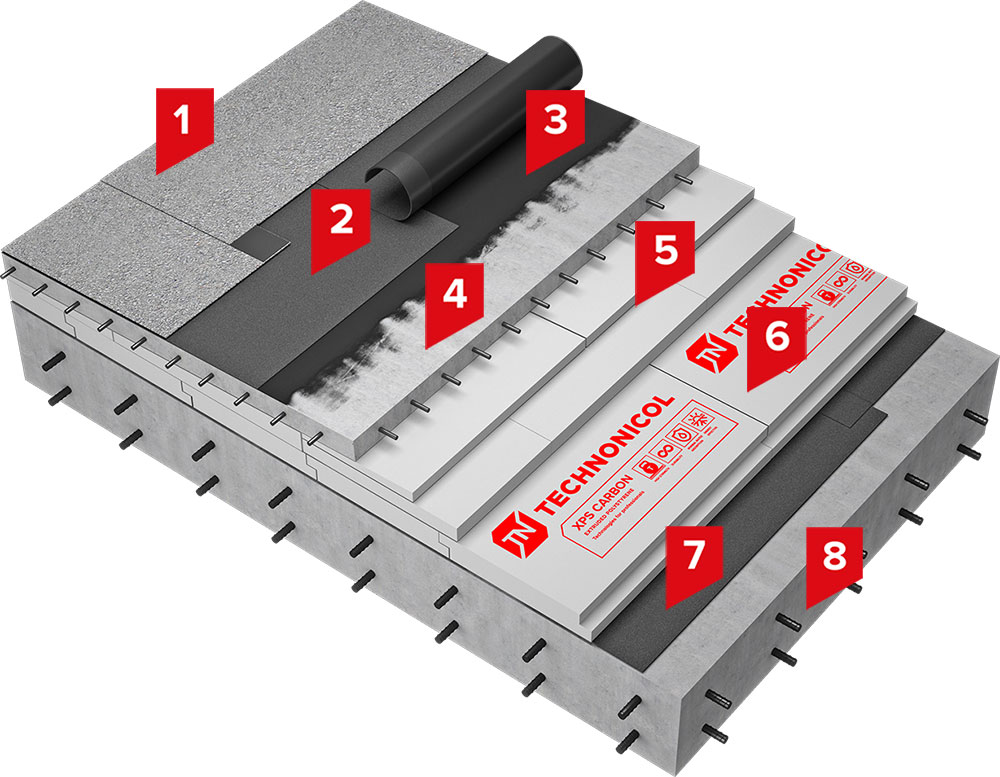 System composition
Reinforced sand-cement screed
Reinforced concrete base
AREA OF APPLICATION
Residential and administration buildings, business centers, shopping centers, industrial building roofs on a reinforced concrete base.
SOLUTION DESCRIPTION
The solution is suitable for the roof with a reinforced concrete load-bearing structure. The system is widely used due to its high reliability, maintainability and traditional installation technology.
Self-adhesive polyester-reinforced polymer-bitumen membrane ULTRAFLEX SA is used as a vapor barrier on a concrete decking. The material reliably protects the roof structure from vapor saturation, while being resistant to possible mechanical damage during installation.
Extruded polystyrene slabs TECHNONICOL CARBON PROF 300 used as a thermal insulation layer are featured by low water absorption and high compressive strength. A sloping layer can be made with the special slope-shape slabs TECHNONICOL CARBON PROF SLOPE or sand-cement screed.
The waterproofing system comprises two layers of APP-modified bitumen membrane of the ULTRAPLAST series. The first layer of ULTRAPLAST B with PE finish is torched to the primed reinforced sand-cement screed. The top waterproofing layer is made of ULTRAPLAST B grey mineral that is covered by a coarse-grained slate to protect the material from damage by ultraviolet radiation during the whole service life of the membrane.