TECHNONICOL materials were used for a construction of a new Education Center at Baha'i Lotus Temple
12.02.2018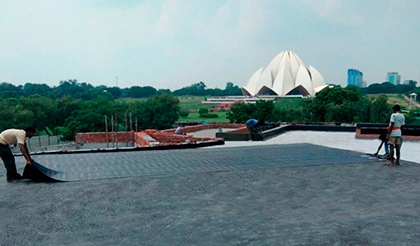 APP-modified bitumen membrane ULTRAPLAST B 3 mm was used together with BITUMEN PRIME COATING for the roof waterproofing of a new Education Center building at Baha'i Lotus Temple, New Delhi. The total waterproofing area amounted to 1 800 m2.
The Baha'i House of Worship is an institution at whose heart is the intimate connection between worship of God and service to humanity. At the Lotus Temple in New Delhi, this relationship is becoming more tangible with the inauguration of a new educational center on its grounds.
"The purpose of this center is to build community," explains Shaheen Javid, General Manager of the House of Worship. The educational facility, which can accommodate hundreds, will be used to host camps, courses, and seminars for youth and young adults who are involved in efforts to improve their communities. (source: http://news.bahai.org)
Polymer-bitumen membranes of ULTRAPLAST series were specially designed by R&D center of TECHNONICOL to suit the requirements of the hot climate of India. The material with its enhanced flow resistance, high content of polymers, premium quality bitumen and excellent tensile properties perfectly meets the needs of architects, developers, builders and applicators all across the country.
To maximize the adhesion and increase the service life of the waterproofing layer the contractor has also applied ready to use solvent based BITUMEN PRIME COATING, which has an enhanced covering capacity, penetrability and short drying time. The use of compatible high-quality construction materials in roofing and waterproofing systems is a key to a reliable protection of any building or engineering structure.
Back to news list