TECHNONICOL Corporation opened a plant of additives for concrete
28.09.2017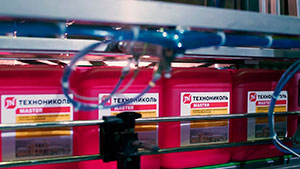 TECHNONICOL Corporation, one of the largest international producers of reliable and effective building materials, opened a new line of business and launched a high-tech plant of additives for concrete in Voskresensk city. Investments amounted to 2 million US dollars.
The new enterprise has modern high-precision equipment, which allows producing materials of the top quality. Production capacity of the new enterprise is up to 80 000 tons of additives for concrete per year.
Only the most modern types of chemical raw materials are used for production. In particular, following European and global trends, polycarboxylate esters are used in production, which are currently the most advanced plasticizers for concrete mix, allowing not only to reduce cement consumption, but also to obtain high-quality concretes with outstanding technical characteristics. In addition, new enterprise was built in accordance with high standards of environmental safety: the production is completely wasteless.
"TECHNONICOL systematically develops new directions of business, currently concentrating on those segments, where the share of international competitors is still high. In particular, we are interested in the construction chemistry segment. Last year, we launched a factory producing PU foams in Ryazan. Opening of the plant producing additives for concrete is a logical and consistent step. We expect to become an important player on the international construction chemistry market, both by launching new enterprises and considering the possibility of acquisition of plants abroad", said Sergey Kolesnikov, President of TECHNONICOL Corporation.
Back to news list