TECHNONICOL co-owner Sergey Kolesnikov signed memorandum of understanding to build production site in India
13.10.2016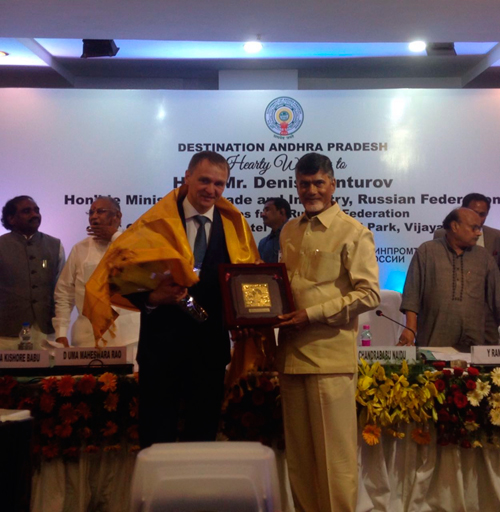 On October 12, during the visit of Denis Manturov, Russian Minister of Industry and Trade, to India, a Memorandum of understanding between TECHNONICOL, SUN Group and Andhra Pradesh economic authorities has been signed. The document regards possible investment in the new TECHNONICOL manufacturing cluster for the production of waterproofing and thermal insulation materials near Visakhapatnam.
The total investment in the project amounts to US$ 60 million. This sum is provided by the TECHNONICOL co-owner Sergey Kolesnikov.
The funding of the project is scheduled to be invested in three phases. At the first stage, the investment sum can reach US$ 5–7 million, at the second stage — US$ 10–15 million and at the third stage it can constitute US$ 20–40 million.
«We have entered the Indian market lately, and our products are already supplied to local objects. After the Memorandum has been signed, we can develop the production site in the country. We hope to establish a productive dialogue with authorities of Andhra Pradesh that support the industrial development of the region», states Sergey Kolesnikov.
The projected manufacturing cluster includes plants for the production of roll-fed bituminous membranes, flexible shingles and extruded polystyrene thermal insulation. The analysis of the concept will be carried out with support of the private Indian company SUN Group. Presently, the basic parameters of the project are under consideration.
«We are very glad that Russian companies keep coming to the Indian market. The economic growth rate of Andhra Pradesh is among the highest as compared to other states of India. We hope that projects realized in collaboration with TECHNONICOL will help the company significantly amplify its presence in the Indian market. We are convinced that common effort of all the counterparts will contribute to economically efficient projects in the Andhra Pradesh state and beyond its boundaries», comments Shiv Khemka, Vice Chairman at SUN Group.
Back to news list