Diwali charity 2021: TECHNONICOL India supports Advitya NGO
01.11.2021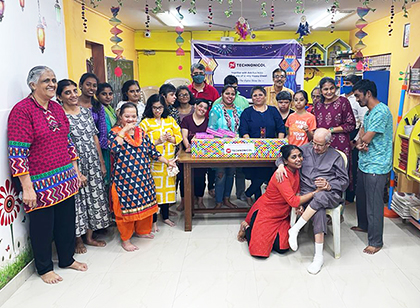 Diwali (popularly known as the "Festival of Lights") is one of the biggest festivals of India, celebrated with great optimism and happiness. The festival of Diwali is never completed without the exchange of gifts.
In these tough times when the whole world is fighting against a deadly enemy, each one of us is willing to come forward and help others. Following the previous year's tradition, TECHNONICOL India has decided to conduct another charity event, this time – together with Advitya, a creative centre for the specially gifted. This respected NGO, established in 2000, cares for people with conditions like Down's syndrome, Autism and Cerebral Palsy. All their students are involved in occupational therapy, which is adding value to a multitude of handicrafts they make to showcase and develop their imagination and creativity.
The charity event held by TECHNONICOL India on October 27 in Mumbai was aimed at the support of these special people as well as at drawing attention to the unique creative skills they have. A Diwali gift from the company – a music system – should help for the everyday sessions used as a part of an Advitya wonderful therapy program of colors, music and storytelling, while the humble donation can cover some other needs. And, of course, what is Diwali without sweets?
"We are very grateful to the team of Advitya and especially Ms. Anjali Shah, the founder, for the hard work and passion they put daily into following such a great goal. We also thank them for all the efforts they took to make this event successful. We are truly inspired by their example towards a social cause to keep humanity. The way they maintain the well-decorated interior of the place and take care of their students is a lesson for everyone. The exceptional therapy system used in Advitya really helps their beloved students to not only develop their physical skills and improve the overall mental well-being but also to cultivate their boundless creative potential," says Nikita Patel, Marketing Manager of TECHNONICOL India. "At TECHNONICOL we value every single human and try to bring some good to the society by not only our construction materials and solutions but also with such activities. We believe that putting a smile on each face is an essential and natural desire, and that makes us truly happy."
Back to news list