TECHNONICOL implemented a machine vision system at four stone wool plants
21.03.2022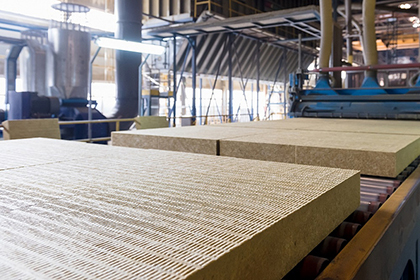 TECHNONICOL has completed the next stage of digitalization of production and implemented a machine vision based on neural networks at four stone wool plants – in Ryazan, Zainsk, Rostov-on-Don and Belgorod. The system will increase the efficiency of product quality control by 75% and significantly improve labor safety. Investments in the project amounted to 1 million USD.
In the packaging areas, the technical vision was integrated with the production management system. As a result, when a person appears in the danger zone, the neural network automatically turns off the equipment and does not allow it to be started again until the employee leaves it. This greatly improves safety at work and prevents accidents.
The enterprises have also installed an automatic rejection system based on the "Flaw Detector" technology. It eliminates the influence of the human factor in the quality control of finished products and remarkably increases the accuracy of this process. Machine vision precisely evaluates all surfaces of the thermal insulation material and its geometric dimensions. As a result, the client will never receive the product with even minor flaws. In addition, the complete automation of the control function frees operators from routine tasks and allows them to pay more attention to fine-tuning line parameters. Overall, the effectiveness of quality control is increased by 75%.
Automatic security and flaw detection systems were tested at the TECHNO plant in Zainsk and then launched at Ryazan, Rostov-on-Don and Belgorod enterprises in March 2022. In the future, the Company's management will consider scaling these solutions to other TECHNONICOL stone wool plants.
During the project implementation, cameras and server equipment were installed at the production sites. To "train" the neural network that makes decisions about material rejection, the Company's experts classified possible defects for each product type and divided them into categories. This database was loaded into the neural network and then supplemented and corrected during the setup process. Now the system identifies slabs with defects and automatically sends them for processing with higher accuracy than even a trained specialist.
"Machine vision is a bespoke solution tailored specifically to our production requirements. It is impossible to implement such a project using a standard algorithm. The system must consider all the nuances of each line and the features of our materials. The neural network was carefully "trained" with this knowledge by the employees of the TECHNO plant in Zainsk together with the IT specialists of the developer company. The system demonstrated an almost perfect result and error-free operation during the trial operation. Therefore, we decided to extend this experience to other TECHNONICOL stone wool factories. Thanks to the technical vision, we can ensure that the customer will receive only the highest quality products that have passed the strictest and most careful control," comments Vasiliy Tkachev, Head of Mineral Insulation Business Unit of TECHNONICOL Corporation.
Back to news list