TECHNONICOL has delivered the first order of roofing shingles to Thailand
02.01.2019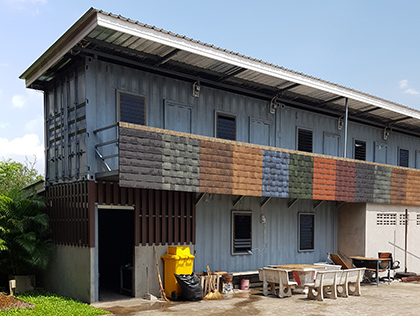 TECHNONICOL Corporation has been consistently developing its export activities. The products of the manufacturing company are being sold to 95 countries around the world. Due to the fact that TECHNONICOL produces more than 3,000 types of products, builders can easily choose the material to solve various construction tasks. TECHNONICOL has already been making shipments of other product types to Thailand, but this was the first time our partners have chosen the COUNTRY collection of multilayer roofing shingles (color: Michigan).
Roofing shingles by TECHNONICOL have long established itself as a reliable roofing material for cottages and low-rise construction. The combination of beautiful aesthetics and excellent technical characteristics provided this roofing type with its deserved popularity in many countries around the world - from the most northern region of Norway to the most southern states of India.
As the climate in Thailand is humid tropical and considered to be one of the most changeable in the whole South-East Asia, roof waterproofing material should be resistant to the fairly contrasting environmental changes: from monsoon rains, lasting from May to July, to extreme heat with high air humidity. Thanks to its upper protective basalt dressing layer, produced of mountain origin natural stone granules, TECHNONICOL materials can guarantee high durability to the external environmental effects and ensure long roofing life cycle. In addition, the COUNTRY collection of multilayer roofing shingles allows creating a reliable noise proof barrier during rain and wind, which provides the most favourable living conditions during the rainy season.
Back to news list