Roofing shingles by TECHNONICOL chosen for eco-village in Bangalore
08.11.2017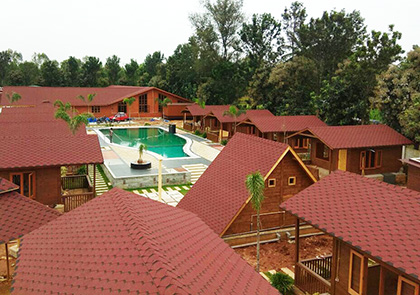 TECHNONICOL roofing shingles were chosen for the project of an eco-village done by Wooden Homes in Varthur, Whitefield, Bangalore. The developer applied Sonata Quadrille Red of CLASSIC series covering the area of 24.000 sq. ft., and was very much satisfied with the quality and the look of the roofing shingles.
Varthur is a suburb situated in the Eastern periphery of Bangalore City and part of the internationally famous Whitefield township. With a green ambience and fresh air, the project is focused on providing a space for all types of events that demand serenity and peace. It is a place of natural beauty and landscaped gardens. The location provides facilities like lawns, swimming pool and well-built bungalow for people to rest and relax.
CLASSIC series covers a wide array of attractive colors and various cutting patterns to suit any taste. High-grade asphalt coating is used to produce these single-layer roofing shingles. CLASSIC series offers manufacturer's warranty of 30 years.
Our commitment to quality control, best raw materials and up-to-date technologies guarantee years of superior performance to every customer.
Back to news list