New videos on LOGICROOF PVC membranes
24.05.2019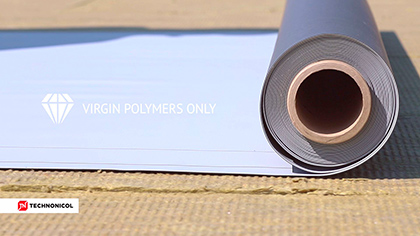 TECHNONICOL PVC membranes, made under the LOGICROOF brand, are state-of-the-art roofing and waterproofing materials. These multi-component products contain the latest generation of plasticizers and other additives that make the roofing long-lasting, resistant to ultraviolet radiation, and highly safe from fires while maintaining plasticity even under sub-zero temperatures, in addition to the other benefits it offers.
LOGICROOF polymeric membranes are manufactured using the most advanced co-extrusion method. This technology makes it possible to produce material with a homogeneous structure without internal defects, thus achieving high quality and long service life.
New videos are aimed at providing additional information on these reliable waterproofing products. The video LOGICROOF PVC membranes is highlighting some of the main features of the material and demonstrates how easy and fast it is to install TECHNONICOL roofing system. The video LOGICROOF PVC membranes - references presents some of the successful projects from all over the world completed with our roofing materials. Enjoy watching!
Both videos are available on our official YouTube channel as well as in the section "Useful" of the website that also contains other important information related to TECHNONICOL Corporation, its' products and their advantages, manuals for installation, transportation and storage of the products, soft copies of advertising materials and testimonials. Check it often not to miss something useful!
Back to news list