Roofing shingles colors
There is a variety of considerations that come with choosing appropriate roofing shingles. Selecting architectural shingles involves identifying the durability of the material, its longevity as well as ease of installation. Equally as important for residential applications is how well it pairs with the pre-existing house color, as the large surface area shingles occupy creates an aesthetic precedent that influences how people perceive their home. Fortunately, there are a variety of architectural roofing shingles colors to choose from which can pair with a variety of home designs. Below, we offer a guide on how to match roof shingles to house color to make the most out of your roofing investment.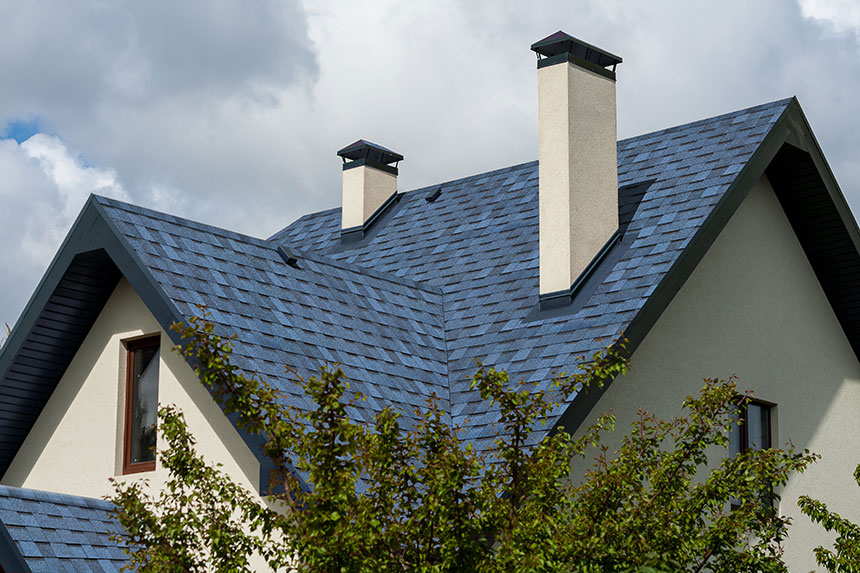 After you have decided on what style of shingles to use, color is a very important decision. The color of your roofing shingles has a substantial influence on the overall aesthetic impact as well as the climate-controlling capacities of your home. Gabled roofs present large surface areas that can absorb an incredible amount of heat, influencing the thermal regulating capacities of your home and how much energy you expend to keep it cool. In hotter climates, such as in India, choosing colors that have a greater Solar Reflective Index (SRI) can help to keep your home cooler during the hotter months. That being said, based on the overall color scheme of your home's exterior, choosing the right colored shingles can often require a compromise between keeping cool and staying stylish.
Does the color of roofing shingles matter?
Matching the color of your roof to your home involves practical and aesthetic reasons, as noted above. TECHNONICOL's shingles last anywhere from 30 years for the CLASSIC AR series to 60 years for the CONTINENT collections; the popular COUNTRY AR collection is guaranteed until 50 years. It is important to understand that the visible part of the roof is large enough and if you do not want to invest in the expense of having your home painted to match your roof, it is better to match the color of your roof to your home.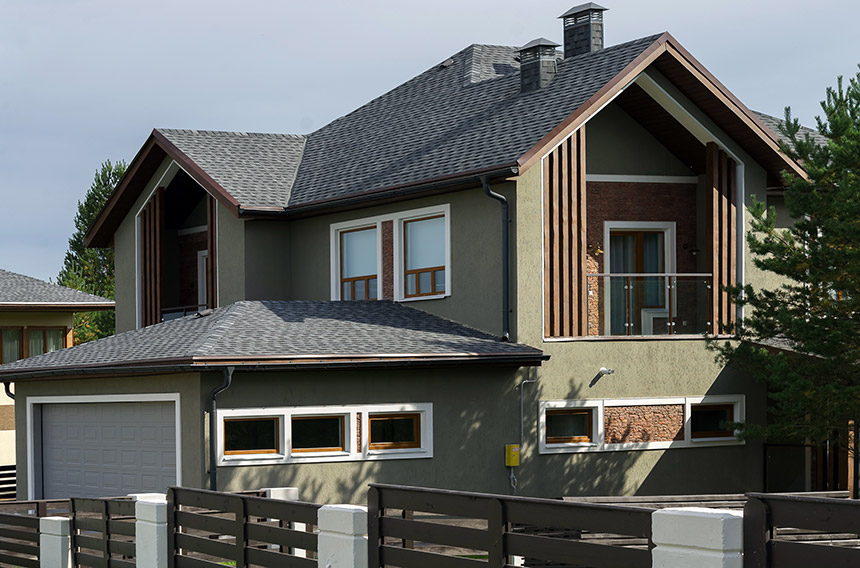 Another practical consideration is, as mentioned, the SRI rating of your roofing shingles. A lighter roofing shingles color versus darker colors can reflect up to 55-90% of solar radiation while keeping the roof to an acceptable temperature. Absorbed solar radiation can radiate into the interior environment, even with sufficient insulation, increasing the internal temperature and necessitating greater energy expenditure in order to keep the indoor environment at a comfortable temperature. In short, a lighter color roof can decrease the expense of indoor thermal regulation and insulation, particularly in environments such as India where there are long stretches of hot weather and there is intense solar radiation.
Another consideration that influences the color of roofing shingles is aesthetics. Most people do not design their homes to have the roof as the main focus of attention, in which case choosing a color that matches your home's color as much as possible or that blends well with the surrounding environment mean a nicely tailored finishing touch. Further, for homes regulated by Home Ownership Associations, homeowners may be restricted to specific roofing colors and may be subject to fines if they choose the inappropriate color.
How to choose a roof shingle color
While there are many architectural roofing shingles colors, there are some methods that simplify how to match roofing shingles to house color. Traditional shingle colors are grey, black or brown which always go well with houses that are colored white, grey or blue as they are a very neutral pairing. Earthier tones that include red or tan go well with houses that have wood or faux-wood vinyl siding as well as houses that are designed with a more Mediterranean influence but do not have clay tile roofs. The taller the house is, the less visible the roof will be from the street, so taking in the visibility, or lack thereof will also influence whether you want to maintain the traditional coloring style or include something more vibrant. Many modern shingle styles offer combination color tones that transition or blend between different tones, such as brown and reddish-orange.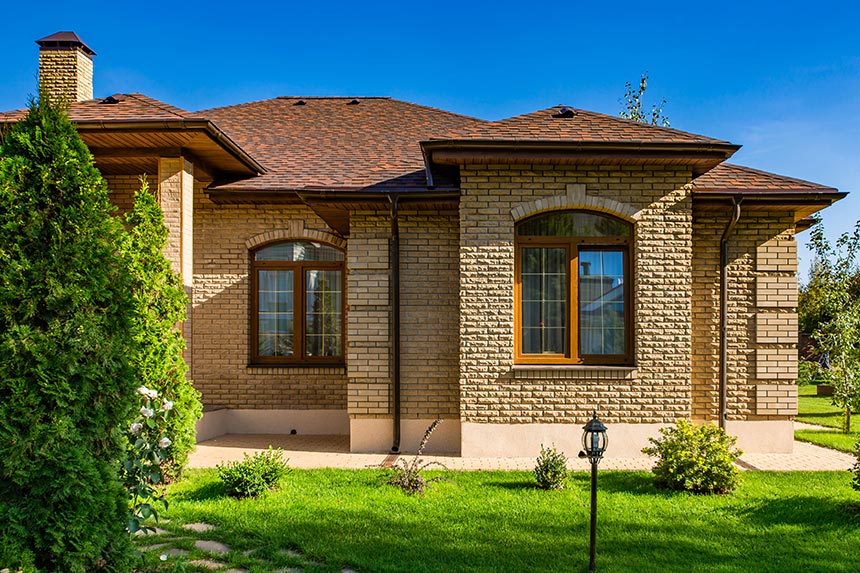 As noted, if you are trying to reduce the thermal absorption of your roof, cooler roofing shingle options provide greater reflectance of solar radiation while also providing a wide array of shingle colors so that you can find the right color combination while also keeping your roof cool. You can also choose lighter tones, such as gray or even white shingle, for a naturally reflective shingle color that limits solar absorption.
Most popular roofing shingles colors
Given how popular shingles are as a roofing material, it is no surprise that there is a vast array of architectural roofing shingles colors to choose to complement one's home.
Black roofing shingles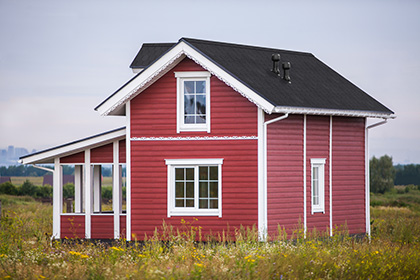 Black shingles are perhaps the most ubiquitous roofing shingle color and for good reason: they go well with just about any house color. With the exception of houses that primarily feature brown tones, black shingles feature nicely with homes that are colored white, wood-colored, beige, light-grey or red. So, for those who live in brick homes, stone homes, or who have varying siding colors, black is a solid choice for roofing. Being the darkest possible shingle color, black shingles will also display the greatest thermal absorption, which may limit them as a color preference in climates where reducing thermal retention is a primary concern.
Grey roofing shingles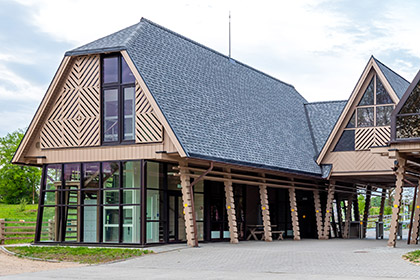 Grey roofing shingles are as common as black shingles because they also can be paired well with just about any exterior home color. Grey shingles also have the advantage over black shingles of being lighter and thus naturally absorb less sunlight. Grey shingles are also a popular shingle color for blended shingles that transition from lighter to darker tones as well as in multi-toned shingle coloring blends.
Brown roofing shingles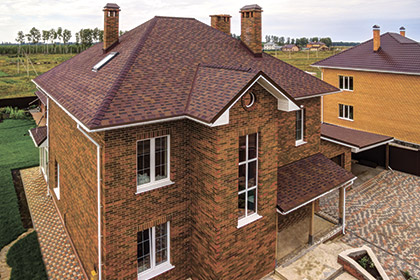 Brown roofing shingles are the next most common roofing shingle color given how well they pair with a variety of house colors. With the exception of light grey homes, brown shingles can be found on white, red brick, brown or beige homes. Brown shingles provide a nice alternative where wood shingles are not suited, providing similar color patterns with the desired properties of asphalt shingles.
Red roofing shingles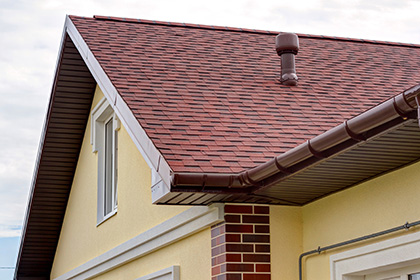 Red roofing shingles go well with houses that are predominantly brown, but they also feature nicely with predominantly white houses. For those who are looking for a roof to resemble terracotta roofs, red shingles can provide a nice substitute to blend in with clay or brick structures. If your home features wood or faux wood siding, red shingles can pair nicely with grains that display more reddish-gray patterns. As red shingles tend to come in darker tones, even when blended with other color tones, they should not be used if you are looking for a more discreet roof coloring scheme, but also make for great options if you are trying to create overall vibrance, such as with a blue colored house.
Green roofing shingles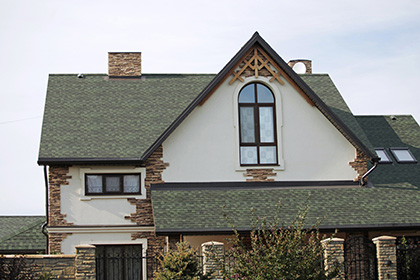 While most people would not think of green as a color to be prominently displayed on one's roof, darker green roofs blend in nicely with a variety of home colors, especially in areas that feature a lot of trees and abundant vegetation. Brown homes, weathered wood homes, light grey and red brick homes and white homes all pair well with green roofs. Green is also commonly featured in blended roofing shingles that transition from lighter to darker green tones.
Multi-colored roofing shingles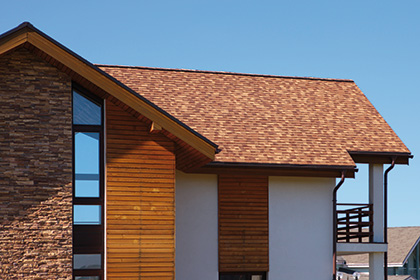 If you have the freedom and the palette preferences to accommodate other color options, then there are a variety of color choices at your disposal. Blue shingles are not as versatile as other roofing shingle colors but are often combined with other color patterns to provide multi-colored roofing shingle displays. Likewise, there are a variety of color blends that combine light and dark tones for specific colors, such as with browns, greens or reds, or which even combine different colors within the same shingle, to provide an interesting color display. If you like variety in your roofing color schemes and are willing to modify the exterior of your home's coloring, such as through different colored shutters, doors and framing, to accommodate the different colors of your roofing shingles, then color blends are an excellent option to provide variety in your roofing shingle color scheme.
Dark vs light-colored roof shingles
Aside from considering color with respect to thermal retention and conduction, choosing between light and dark-colored roofs can have an impact on the overall design of your home's exterior. Dark-colored roofs tend to be much more noticeable, perhaps owing to their tendency not to reflect as much light and distract attention as well as the concentration of color. Therefore, if you are trying to make a statement or tie in your overall design with a pronounced roofing tone, then choosing a dark-colored roof will bring more attention to your roof. That being said, if your roof is more pitched, so that more of your roof is visible, using a dark tone can actually present more of a distraction. This effect is more noticeable with less typical roofing colors, such as green, red, blue or even brown shingles, versus black or grey shingles. For smaller homes such as ranches, ramblers and even bungalows, using a lighter-colored roof can make your home appear larger and concentrate attention away from your roof color and towards the rest of your home.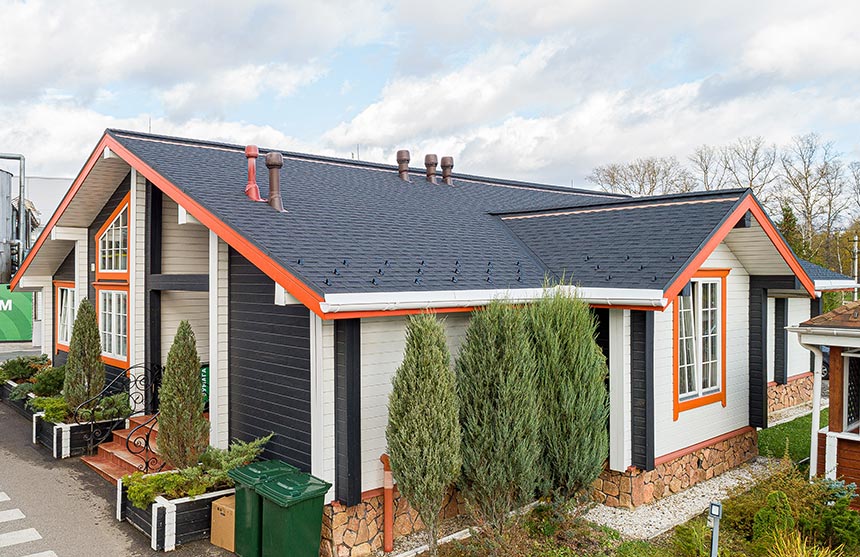 How to choose the right roofing shingles for your home
While it is not a science, knowing how to match roof shingles to house color can make a substantial difference with regard to overall aesthetics as well as indoor climate control. Roofing type, size and orientation should be taken into consideration when choosing the shingle color. Steeply pitched roofs, roofs with little surrounding vegetation or development and roofs on homes that are shorter will be the most visible; for those who are looking for more discreet roofing combinations, choosing lighter shingle colors such as gray or brown may better suit the overall design scheme. Further, if minimizing thermal absorption is a concern, choosing lighter colors, even if cool roof shingle options are being used, will help to maximize solar reflection and lower overall energy usage.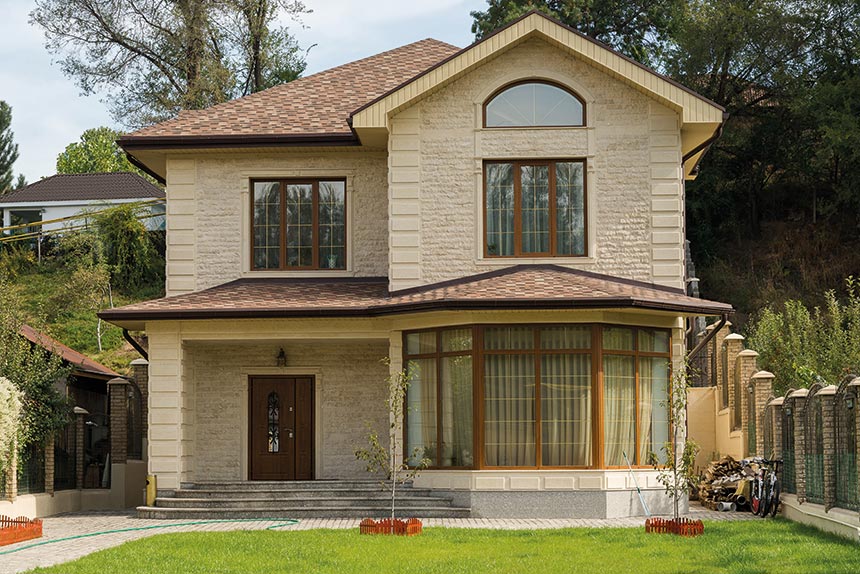 Fortunately, there are a variety of roofing shingle colors available to suit anyone's palette. TECHNONICOL's popular Country AR collection features a variety of roofing color options including blue-tones Montana, brown-toned Louisiana and black and grey Michigan. These are just some of the many colors available, in addition to the other roofing style collections, that provide TECHNONICOL's esteemed material durability and longevity in stylish options to match your overall color scheme. Whether your goal is to blend in with your surroundings, top off your home as a statement piece, or ensure that you stay cool no matter how it is outside, TECHNONICOL's abundant architectural roofing shingle colors can match whichever style you seek. With so many colors available, there is no reason to make the wrong choice when it comes to pairing your roofing shingles with the color of your home. Hopefully, you have gained a better understanding of how to match roof shingles to house color so that you can choose the right colored shingles to match your home.
Back to blog list